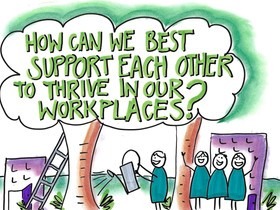 On Monday, 6 December 2021 a small but committed group of people met to kick off VTMH's Lived Experience Community of Practice (LE CoP). We discussed how to create a culturally safe space and identified our top three values – collaboration, diversity and advocacy.
Our second meeting on Thursday, 7 April 2022 focused on a presentation given by VTMH's Consumer Consultant, Naomi Chapman, entitled "Dare to Care – Compassion in the Workplace."
The overarching group objectives include:
How lived experience practitioners with diverse voices influence practice within their organisations and the mental health sector.
Systemic barriers and enablers that face lived experience practitioners from diverse backgrounds when trying to contribute or generate change. This will also become a relevant source of knowledge for the Department of Health (DoH).
The LE CoP group members represent various voices within the mental health system including those from culturally and linguistically diverse (CaLD) communities, those with experiences of migration, youth, and the LGBTIQA+ communities.
Our next meeting was held via Teams on Thursday, 9 June. It was facilitated by Kath Currey, Lived Experience Coordinator at NEAMI, and the topic was "Exploring diverse backgrounds and experiences in Lived Experience practice (the different ways in which we utilise a lived experience of diversity in our roles)."
Facilitators from VTMH are Naomi Chapman and Abie Jazi.