Inspiring stories of people living with emotional and mental health issues.
These were created during a four-day workshop in 2014 led by film-makers, practitioners and researchers. Each storyteller wrote, voiced, created and edited their own film.
The storytellers are from culturally diverse backgrounds. They decided that 'Finding our way' captured the collective message of the stories.
The project and the stories are discussed in these texts:
McDonough, S. & Colucci, E. (2021). People of immigrant and refugee background sharing experiences of mental health recovery: reflections and recommendations on using digital storytelling. Visual Communication, 20(1), 134-156. DOI:10.1177/1470357218820651.
Colucci, E. & McDonough, S. (2020). Recovering from mental illness and suicidal behaviour in a culturally diverse context: The use of digital storytelling. In V. Lo, C. Berry, G. Liping (Eds.), Film and the Chinese medical humanities. London UK: Routledge. [Open access]
Dear Self, Akeemi
Dear Self, Akeemi
Childhood memories, moving to a new country, feelings of isolation and efforts to connect are among the experiences that inspired Akeemi's healing "letter to self", with original drawings and paintings.
My Faith, My Anchor, Chandima
My Faith, My Anchor, Chandima
Chandima's story is about migration from Sri Lanka, faith in God and her family: inspirations for personal recovery and the desire to help others.
Doe Doh's Story, 
Doe Doh
Doe Doh's Story, 
Doe Doh
A harsh childhood lived on the Thai-Burma border, yearning for freedom and seizing the possibilities of 'now'. Karen with English subtitles.
Psychiatric Superhero, James
Psychiatric Superhero, James
The author voices scenes from his graphic novel about a light warrior's deep inner struggles and his resolve to overcome them.
Spreading Joy, Kim
Spreading Joy, Kim
Origami, laughter, good food, kindness: Kim's ingredients for a fulfilled life and taking a positive approach to recovery. Mandarin with English subtitles.
Linh's Story, Linh
Linh's Story, Linh
Linh discusses overcoming severe mental illness with the help of her loving family, feeling welcome in new country and going on holidays. Vietnamese with English subtitles.
The Visual Conductor, Maria
The Visual Conductor, Maria
A story about family expectations, taking charge and staying well involving art, personal goals and play.
Becoming, Nevena
Becoming, Nevena
From civil war, loss and uncertainty to safety: a refugee's unfolding story. A lifelong journey toward happiness and inner peace.
I am Colours, Tuan
I am Colours, Tuan
"Colours within me connect me to colours around me." Tuan sews beautiful hand-­made objects and uses his keen sense of colour to connect with other people and the world around him.
About these stories
Who owns these stories?
Each digital story is original, owned by its creator and was made to be shared. The storytellers have licensed ACMI, and sublicensed VTMH (and other agencies named as MHiMA consortium members in 2014) to distribute these stories. We welcome agencies and individuals linking to this webpage, however, the videos should not be uploaded to websites without seeking additional permission.
Can we use these videos for education purposes?
Yes. The stories may be used for study, teaching or training purposes subject to an acknowledgement of the source. For monitoring and evaluation purposes, please let VTMH know when you use the material in training or add a link to your website. Enquiries concerning reproduction and rights for purposes other than those indicated above should be addressed to VTMH.
Why won't the videos play on my computer?
The videos will play using most internet browsers but you may experience difficulties, beyond VTMH's control, if you use an old browser version.
Acknowledgements
Each digital story is original and owned by its creator. The project was created and developed by two member agencies of the Mental Health in Multicultural Australia (MHiMA) project — Victorian Transcultural Mental Health (VTMH), St Vincent's Hospital, Melbourne and the Centre for International Mental Health (CIMH) at the University of Melbourne — in conjunction with the Australian Centre for the Moving Image (ACMI). Project coordination for MHiMA by Erminia Colucci & Susan McDonough. Presented by the Digital Story-telling Program of ACMI, 2014.
Presented by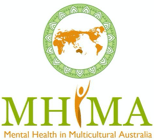 Thank you
Thank you to all the individual storytellers, their families and friends, the film-makers, support workers and everyone else who helped in the telling of these stories. The participants and or­ganisers hope these stories encourage others to share their experiences.