Orientation to Cultural Responsiveness
This free, self-paced learning module introduces key concepts in culturally responsive mental health practice.
The module provides information to support individual practitioners in work with consumers, carers, families, and communities, and can also support agencies to implement a diversity plan.
Mental health service providers and a range of diversity organisations were consulted in design development of this resource.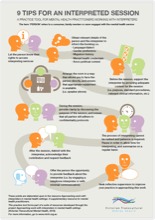 9 Tips for an Interpreted Session
Available for download under Further Resources section in our free online learning module, Working with Interpreters.